WPC decking(Outdoor flooring) Product introduction
Raw materials introduction
WPCdecking refers to the outdoor floor plank formed by high-speed mixing and extrusion of wood powder, bamboo powder and other natural plant fibers with polyethylene. Due to its unique granulation, molding, injection molding and other processing technology, WPCdecking has become an excellent and very durable outdoor waterproof and corrosion-resistant building materials.
WPC decking is a new type of green and environmental protection plank. Plastic wood has the characteristics of natural fiber and plastic at the same time. It has excellent water resistance, water absorption is only a few thousandths of that of wood, wear resistance is 3-10 times of that of wood, steel and bearing capacity are greater than that of all plastic materials, while heat expansion and cold shrinkage are less than that of steel and all plastic materials, processability is better than that of wood, steel, plastic and other materials, and later maintenance cost is small.
Quality assurance
The product is low carbon, environmental protection, fully in line with the "green, science and technology, humanities" Olympic concept.WPC decking is widely used in bird's nest design.
Characteristics of maijin WPC decking
MaijinWPC decking has the same processing performance as the log. It can be nailed, drilled, cut and bonded. It is connected and fixed with nails or bolts. Its surface is smooth and delicate without sanding and painting. Its paint adhesion is good, and it can also be painted according to personal preference. The product has better physical properties than log, better stability than traditional wood, no crack, warpage, no wood scar, twill, adding colorant, film or composite surface can be made into colorful products, without time-consuming maintenance.
1.Skid proof and fire protection
Special grinding technology, increase friction, no slip when walking. Fire resistant material, put an end to fire hazards, effectively reduce the risk of accidents.
2.Hard and anti-aging
The plank has good toughness and can easily cope with various extreme environments. The texture is hard and the splicing is firm. Not afraid of wind and rain erosion, it can still be ensured that it is firm and does not collapsein the harsh environment.

3.Safe and non-toxic
Brand new green environmental protection plank, pure natural. Environmental protection raw materials, no harmful substances.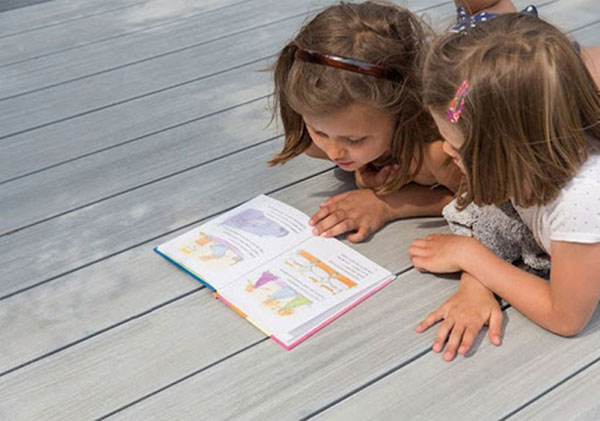 4.No deformation when soaking in water
WPC decking has excellent water resistance, and its water absorption is only a few thousandths of that of wood. Can be installed in swimming pool, seaside and other places, not easy to soak and rot.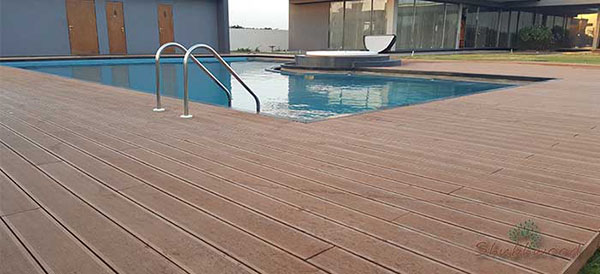 5.Low maintenance cost
After installation, there is no need for special maintenance, no impact of pests, and the later maintenance cost is small.